When trying to join a Windows 10 or Windows 11 device to the Azure AD tenant using Settings > Access Work or School > Connect > Join this Device to Azure AD , you may get invalid_client error.
Looks like we can't connect to the URL for your organization's MDM terms of use. Try again, or contact your system administrator with the problem information from this page.
Error: Invalid_Client
Description: Failed to authenticate user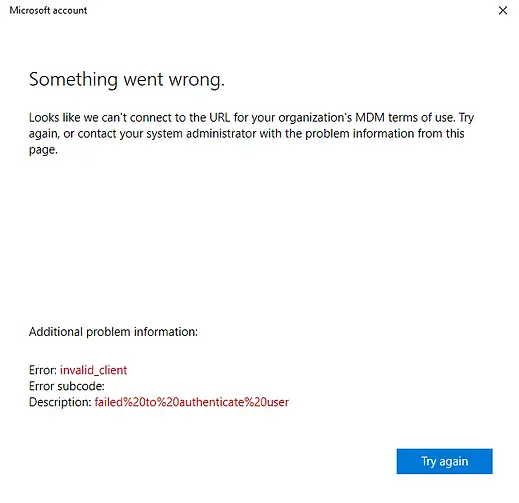 Cause & Solution
This issue may occur due to various reasons. Please check the following things if you encounter similar issue.
1. Have you configured the automatic MDM enrollment?
If a user is configured to automatically enrolled into Microsoft Intune when device is joined to Azure Active Directory (AAD) then Intune enrollment become mandatory during Azure AD Join. The device will not be joined to Azure AD if MDM enrollment failed.
Please check if MDM scopes are configured.
Go to Endpoint Manager admin center > Devices> Windows > Automatic Enrollment to check the settings.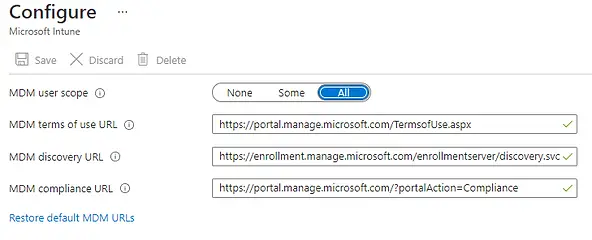 Microsoft Intune – MDM Scope
2. Have you assigned Microsoft Intune license to user?
The user must have Microsoft Intune and Active Directory Premium P2 license assigned. You can validate this from Microsoft Endpoint Manager admin center / Users / <User Name>/ License.
You may have to wait for 10-15 minutes if getting same error evening after license assignment.
Related Posts
Subscribe to Techuisitive Newsletter
Be the first to know about our new blog posts. Get our newsletters directly in your inbox and stay up to date about Modern Desktop Management technologies & news.