Win32 apps provide us greater control over the deployment of application. We can deploy 32 bit and 64 bit application through Microsoft Intune Win32 apps. The Win32 apps support deployment of multiple files via IntuneWin wrapper / Intune WinAppUtil (intuneWinAppUtil.exe). The IntuneWin Wrapper can be used to deploy multiple files such as MSI with transform (MST). The Win32 app also support the deployment of .EXE file by converting them to .intunewin format. IntuneWinAppUtil help you to prepare win32 app installation source for Microsoft Intune deployment.
Intune Prep Tool for Win32 app allow creation of single package for deployment through Microsoft Intune.
Create Intunewin File using Microsoft Content Prep Tool / Intune WinAppUtil
Let's understand how we can use Intune Prep Tool to create Intunewin package for Win32 app deployment.
Download the Intune Win32 content prep tool (intuneWinAppUtil.exe)
Copy all the installation files and other supported files (if any) inside the single source folder (Notepad++ 7.9.1 in this case)
Copy the intuneWinAppUtil.exe outside of the installation source folder.
Open the command prompt and change the directory to root of the folder you created.
Run IntuneWinAppUtil.exe and provide the required input.

As you see in below folder, the intunewin file created in root folder with .intunewin extension. This file need to be selected as a package source when creating a Win32 app.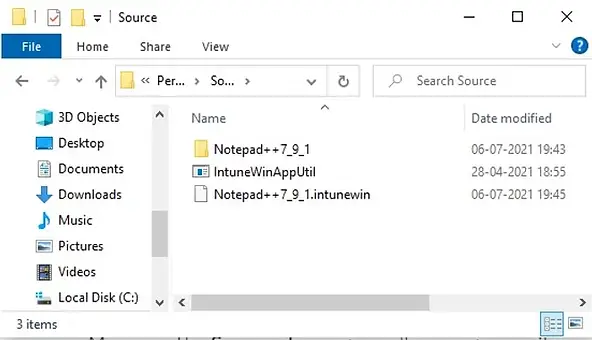 Related Posts
Subscribe to Techuisitive Newsletter
Be the first to know about our new blog posts. Get our newsletters directly in your inbox and stay up to date about Modern Desktop Management technologies & news.