ConfigMgtr | SCCM client installation may fail with below error when management point is configured for HTTPS.
[CCMHTTP] ERROR: URL=http://CMSRV01.techuisitive.local/ccm_system/request, Port=80, Options=1248, Code=0, Text=CCM_E_BAD_HTTP_STATUS_CODE
Failed (0x87d0027e) to send location request to 'CMSRV01.techuisitive.local'. StatusCode 403, StatusText 'Forbidden'
GetDPLocations failed with error 0x87d0027e
Failed to get DP locations as the expected version from MP 'CMSRV01.techuisitive.local'. Error 0x87d0027e
Solution
When you are trying to install the Configuration Manager client from Management Point configured for HTTPS then HTTPS properties need to be defined with /mp switch.
ccmsetup.exe SMSSITECODE=P01 /mp:https://<MP FQDN>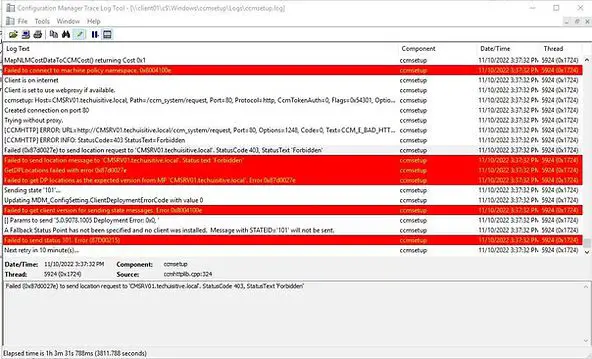 Related Posts: